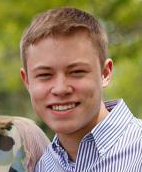 The first installment of the new EHS "Student Spotlight" feature is the winner of the EHS Free Summer Housing Video Contest is Charleston, WV native Cory Dobson. Dobson is currently a student at West Virginia University and will use the opportunity to live for free with EHS in NYC to gain priceless first-hand experience interning at Stepout.com, a TechStars-backed social dating platform with millions of users.
Watch Cory's winning video entry here: http://www.youtube.com/watch?v=UxLc8xseVL4
To enter to win the contest, each student/intern had to answer the question, "What would you do for free housing this summer in New York City with EHS?" using a creative, homemade 60-90 second video. On May 31st, a winner was selected from the top five most-viewed videos, and awarded free housing this summer in New York City.
Dobson says, "I hope to do a great job at my internship and learn as much as I can about software development, all while making as many friends as I can here at EHS! I'm a small town college kid here in New York, and I want to meet as many people as possible! I'm so glad the contest opened up this door for me. I have everyone who shared my video, and of course EHS, to thank for it!"
A major thanks to ALL of the students from across the nation who submitted entries, which were impressive, creative, and fun!
Check out all of the entries on the official EHS YouTube page here: http://www.youtube.com/user/EHSSummerVideo
We also extend our gratitude to  all of YOU who helped us spread the word about this contest! We couldn't have done it without you. Thanks to all for making this such a success!